Germicidal UV Lights For Total Atlanta Air Quality Control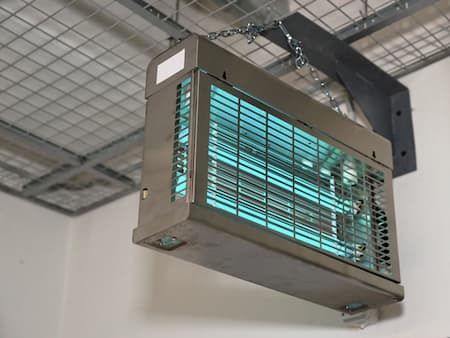 When most Atlanta homeowners think about their home's heating and air conditioning system, they don't really give much thought to what goes on in their ducts before the air leaves their vents. The indoor air quality of your home can play a major role in your and your family's well-being, and germicidal UV lights can be a great help in keeping your indoor air clean. Germicidal UV lights offer a number of benefits when installed in your heating or air conditioning system, and here at Southern Home Performance Inc, our professional AC company for Atlanta can help you with installation.
Are you looking for a professional Atlanta A/C company that can help you find the right germicidal UV lights for your home? If so, give our team of skilled professionals a call today and let us show you the kind of quality results that have helped make us the most trusted name in germicidal UV lights and indoor air quality assessments the area has to offer.
As the premier A/C company serving the area, we understand the importance of clean air in the home. With a high-quality UV light in place, all of the air being circulated throughout your heating and air conditioning system will be treated to help kill bacteria, viruses, mold, and a host of other microbial biological contaminants. If you have any questions about germicidal UV lights, or if you'd like to schedule an appointment for a consultation, give us a call today. Our team of experts is always standing by and would be happy to assist you.
Ultraviolet Air Sanitizer To Remove Airborne Contaminants
Adding a UV light to your Atlanta home's HVAC system can benefit your home in a number of different ways. Some of these benefits include:
Improved Airflow - germicidal UV lights prevent the build-up of contaminants on air filters, cooling coils, drain pans, and in ductwork.
Health Benefits - germicidal UV lights kill mold, mildew, bacteria, and other bio-contaminants before they have a chance to circulate in your home's air.
Better Energy Efficiency - Having a clean, efficient system means lower energy usage and costs.
Economical - The cost of a germicidal UV light is relatively modest. Estimates range from $450 - $700 and can vary by state.
How UV Light Devices Work
These UV light devices are installed directly into your Atlanta home's HVAC system, where the germicidal UV light will treat all of the air that flows through your system on a daily basis. The UV light does this by basically penetrating the surface of these microbial contaminants and scrambling their DNA, preventing them from reproducing. Without the ability to reproduce, these particles are effectively rendered harmless, improving the overall quality of air throughout your home and eliminating a lot of the health risks associated with poor indoor air quality. Our team of experienced professionals can help you get the most out of your home's HVAC system with a brand new germicidal UV lighting device for your Atlanta home.
Call Us Today for Your Own Atlanta HVAC & Energy Saving Company!